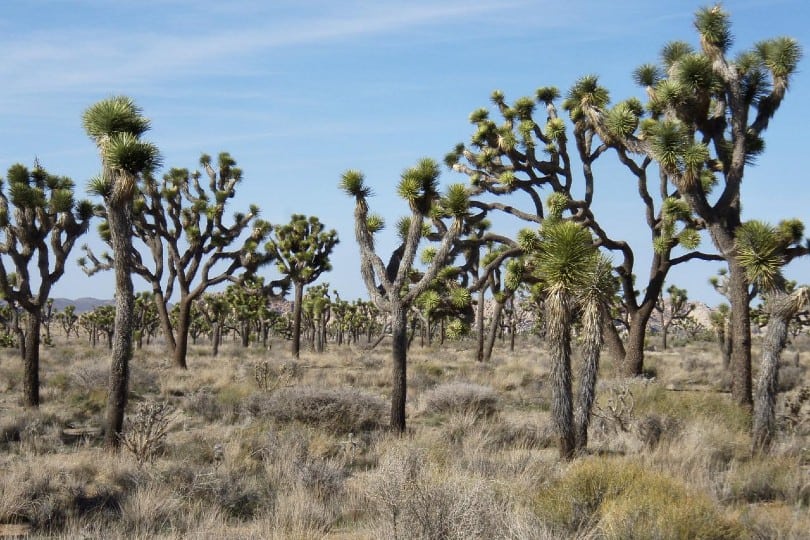 If you're an outdoorsy dog owner, you very likely enjoy taking your dog on adventures with you. Finding dog-friendly locales isn't particularly difficult but having your heart set on a certain location can be frustrating, only to find out it doesn't allow dogs. To help you plan your trip to Joshua Tree National Park, we've put together information on dogs and this park.
Are Dogs Allowed in Joshua Tree National Park?
Dogs are allowed in the park itself, but their activities are restricted for their safety and the flora and fauna of the park. Joshua Tree has a delicate ecosystem that could easily be damaged by dogs, so it's important to follow the rules in this park to keep everyone and everything safe. There are also delicate archaeological sites throughout the park that can be disturbed and damaged by pets.
In Joshua Tree, dogs are banned from all hiking trails. This is to preserve the park's ecosystem and keep your dog safe from the risks of hiking in the desert heat, along with the other dangers that come with the desert, like cacti and rattlesnakes. They are also not allowed in park buildings or in the park backcountry. It is not permitted to leave dogs unattended at any point within the park, including at campsites and in vehicles.
Dogs are allowed to be within 100 feet of campgrounds, roads, and picnic areas within Joshua Tree. They are also allowed on the paved parts of the Oasis of Mara trail and Keys View trail. They must be kept on a leash that is 6 feet or shorter and must be under your control at all times. Unless off-leash areas are explicitly specified, your dog should never be off-leash in Joshua Tree or any other National Park for everyone's health and safety. All dog waste should be picked up and disposed of in trash cans.
Are Service Dogs Allowed?
Service dogs are allowed in places throughout the park that pet dogs are not. It's imperative that you never attempt to present your dog as a service dog unless they are trained to perform tasks that help you manage symptoms of some form of a disability. Service dogs should be under the direct control of their handler. Waste pickup rules apply to service dogs as well. Presenting your dog as a service animal when they are not truly a service animal is a federal offense and can result in fines and charges.
In Conclusion
Joshua Tree National Park is not the most pet-friendly option in the National Parks Service. They work hard to allow people's pets to join them on adventures, but their primary goal is to protect the flora, fauna, and history of the park. This includes limiting where dogs can go within the park. It's important to keep in mind that the desert is a dangerous and unforgiving place for a dog, and the rules are in place for everyone's good. Following the rules as they are written will allow people to continue to enjoy parts of Joshua Tree National Park with their pets.
---
Featured Photo Courtesy: Pixabay